The World's Tallest Goat Tower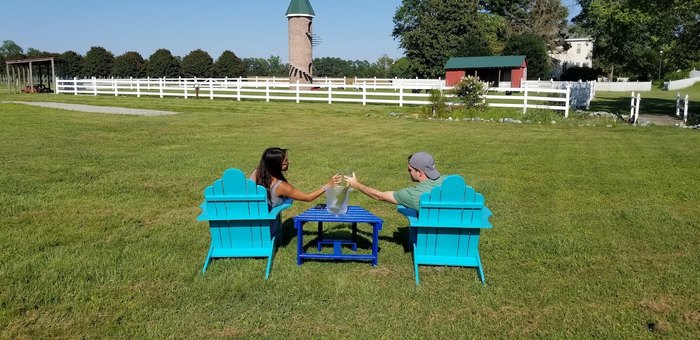 Article originally published in Only in Your State - Virginia on August 1, 2022.
The Tallest Goat Tower In The World Is Right Here In Virginia At Hampton Roads Winery
Hampton Roads is a region full of natural beauty and popular attractions, and those who head off the beaten path are often rewarded with an unforgettable experience. Surry County is one of the region's more rural areas, with farmers providing small-batch goods including Virginia hams to the whole state. And in the small community of Elberon, one Virginia winery has created a must-do day trip for those coming to the area. Featuring small-batch local wines, interactive experiences and tastings, and a massive goat tower perfect for those who love seeing farm animals at play, Hampton Roads Winery is the perfect wine lover's destination with some surprises in store for every visitor.
From the moment you arrive at Hampton Roads Winery, the elegant sign lets you know this is a special place. A vineyard, tasting room, cattle farm, and so much more - it's one of the best spots for a day trip in Surry County. The quaint winery building is located on the larger grounds of White Oak Farm, which is one of the region's oldest farms.
It was purchased by the current owners in 2012, and today the working farm has been completely transformed. Established in 1894, White Oak Stock Farm raises red Angus cattle, and cuts of their top-quality beef are available for sale at the winery. Is there a better pairing than wine and steak? Taking home a bottle and some beef for grilling might be the perfect way to end your Surry County day.
The winery's owners have been growing Bordeaux grapes since 2008 and opened their own winery in 2016. Today, they grow several of the most popular varieties around including Chardonnay, Merlot, and an award-winning Cabernet Franc. The winery is open to the public on Thursday through Monday, and only open for private events on Tuesday and Wednesday. If you're interested in an in-depth tour, you can get a closer look at the inner workings of the winery and how they make the magic happen.
The winery's tasting room can accommodate small groups and is an ideal place to hold an outing or reunion. On a nice day, you can take your sips outside - and that's where you'll see one of the most unique and fun sights in Surry County.
Hampton Roads Winery is home to the world's tallest goat tower, a three-story residence for playful farm goats! The goats graze on the farm's natural grass and can frequently be seen playing and tussling as onlookers sip wine. The floors of the goat tower are connected by outdoor stairs, so you can expect to see them clambering up and down on little hooves with ease.
Whether you're a wine aficionado, an animal lover, a curious tourist, or any combination of the above, there's something for you at Hampton Roads Winery.